Improving Search Engine Optimization (SEO) is one of the best ways to get more traffic to your WordPress website. It makes your web content discoverable to your audience by ranking them to the search engines like Google, Bing, and many more to drive large amounts of organic traffic to your website. Moreover, if you are running an eCommerce website, optimizing the SEO of your website can play a great role to boost the conversion rate.
By default, WordPress has better SEO than its competitors. However, there are lots of things that you can still do to improve the SEO of your website. Keeping that in mind, we have compiled a list of different practices that you can perform to improve the SEO of your WordPress website. But before we go through the techniques, let's know what exactly SEO is and its advantages to your WordPress website.
What is an SEO?
Search Engine Optimization (SEO) is a practice to optimize your web pages to increase their visibility and rank them to the search engines like Google, Bing, etc. It can drive a lot of free organic traffic to your website if implemented properly and play a major role in the conversion rate of your site.
SEO of the website influences many things such as designs, on-page keywords, links, and many more. You need to have deep research of these elements to implement them on your website in order to make your web content visible to the people who are searching for them on the search engines.
How does Search Engines Work?
Search engines normally depend on 3 things to find and display your web content. They are:
Crawling: It is done by the web crawler sent by the search engines to scan the URL of your web contents in order to gather the input of your website and its pages.
Indexing: Store and organize the inputs found during the crawling so that the results can be displayed when a user looks for information.
Ranking: Order the indexed contents based on the relevance of the searched contents. That means if your content is highly relevant to the searched information, it will be ranked first on the search result.
Why is SEO Important for a Website?
Google processes over 3.5 billion searches per day. So, if your web content is ranked first on a Google search, it can generate lots of traffic and bring your website to life. Therefore, making your website SEO-friendly is really important if you are serious about the growth of your website.
Getting Down to Basic WordPress SEO Settings
By default, WordPress comes with some SEO settings that allow you to instantly improve the ranking of your website. Here are some of the basic WordPress settings that you can and should configure your site the moment you log in to your dashboard.
Check the Visibility of Your Website
WordPress comes with an inbuilt option to enable/disable the visibility of your website from search engines. This option is given to show that your website won't be indexed when it is being created or worked. So, once your website is ready to go live, you need to make sure to uncheck the setting to make your website visible on the search engines.
To go to the option, simply login to the admin area of your website and go to Settings >> Reading.
Now, scroll down to the "Search Engine Visibility" section and check whether the box next to "Discourage search engines from indexing this site" is checked or not.
If it is checked, uncheck it and click on Save Changes. If it is unchecked, leave it as it is.
Set SEO Friendly Permalink (URL) Structure
Every webpage and blog post on your website has a unique permalink. From an SEO perspective, a permalink is very essential as search engines use the permalink to understand what the page is all about. Therefore, you can nudge the search engines by adding your targeted keyword to permalinks.
By default, WordPress settings set the "date and name" setting unless you change it manually.
To configure the permalink structure, go to Settings >> Permalinks from your WordPress dashboard. Normally, an SEO-aware WordPress user uses "Post Name" settings. So, you may try out the settings or choose the best one that you link as per your preference.
Check WordPress Website Health
Since the release of version 5.2, WordPress has offered a great feature called Site Health that allows you to monitor the health of your site and notify you if there are any changes required to improve it.
You can access the site health feature from Tools >> Site Health from your WordPress dashboard.
In terms of SEO, the site health feature is very important as it can point out some updates or issues with fixes that jeopardize your website ranking in the long run.
Choose Between WWW or non WWW domain prefix
When you are starting a website, you will have the option to either choose www or HTTP domain prefix at the beginning of the URL. You can do any of the two while starting out but once you get along, you need to stick with it. This is because search engines consider them as two different websites and changing the domain prefix in the middle can provide a negative impact on the ranking of your site.
To check what domain prefix you are using to your website, go to Settings >> General on your WordPress dashboard. Now go to the General Settings and check the URL in both the WordPress Address and Site Address fields.
Different Practice That You Can Follow Make Your Website SEO Friendly
If you have completed all the SEO basics that WordPress has provided inbuilt on its settings, it is time to move on to the Different SEO practices that you can follow. These practices are not too technical and do not require any coding skills to implement. So even if you are a non-coder, you can follow these steps as they can provide a huge difference if implemented well.
Use the Best WordPress SEO Plugin
Now that you have configured the basic inbuilt SEO settings available in WordPress, it is time to use the SEO plugins to optimize your website. There are thousands of SEO plugins available for WordPress so it might be hard for beginners to choose the right one.
So, in order to help you with that, we have picked 3 of the most popular ones and compared them comprehensively in our article: Rank Math Vs Yoast SEO Vs All in One SEO – Which is the Best WordPress SEO Plugin?
This will narrow your choice and allow you to pick the most suitable one for your WordPress website.
Submit XML Sitemap in WordPress
XML Sitemaps are used by search engines such as Google, Bing, Yandex, etc to understand the hierarchy and structure of your WordPress website to ensure better crawling.
Although search engines will still crawl your website without the requirement of a sitemap, creating one will give you access to more reporting data about your website that you want the search engines to crawl. Also, it provides a clear picture of your site structure to search engines and increases your chances to score Google site links.
WordPress SEO plugins like Yoast, Rank Math, and All in One SEO have the ability to automatically generate the sitemap file for you.
Here, we will use the Rank Math plugin to show you how to enable this feature:
First of all, you need to have the Rank Math plugin installed and activated on your WordPress website.
Then, log in to your WordPress dashboard and go to Rank Math > Dashboard. Now, enable the Sitemap toggle and click on settings to go to the Site Map settings.
After that, click on the link, besides "Your sitemap index can be found here:" to check your sitemap.
The result like the one in the screenshot below can be seen.
You can click on any of the sitemaps within your index and see the URL referenced to each file.
Add Your Site to Google Search Console
Google Search Console (also formerly Webmasters) is a set of tools offered by Google to allow the website owner to view how their contents are seen by the search engines. It provides all the reports and data to help you understand how your web pages and contents appear in the search result.
You will be able to see the actual terms that people use to find your site pages/contents, how your web pages/contents appear in the search results and how often your web pages/contents are clicked. This will help you to understand how your website is working in the search engines and enable you to plan your content strategy accordingly.
Integrate Your Website to Google Analytics
Another Google tool that you will have to integrate into your website is Google Analytics. It will enable you to track the real-time traffic of your site and give you a full in-depth report of their behavior. In simple terms, you will be able to know how well your SEO strategy is working and perform different steps accordingly.
To set up your Google Analytics account, navigate to the Google Analytics homepage and create an account.
Next, locate your tracking code. You can find the tracking code in Tracking Info > Tracking Code.
Copy the code that looks similar to the screenshot below:
Depending upon the WordPress theme that you are using, you will be able to add the Google Analytics tracking code on your website. If your WordPress theme does not allow you to enter the Google Analytics code, you can use the Insert Header or Footer plugin.
For detailed instructions, you can check out: How to Install Google Analytics in WordPress?
Apply Schema Markup
Schema Markup is generally an additional code that helps the search engines to deliver more and better data to your visitors. Implementing it on your WordPress website will add a rich snippet to your search results and can dramatically improve the organic traffic on your website.
Many WordPress themes have schema markup coded into them but some don't. So, if you are using a WordPress theme that is not schema markup coded, you can follow the article: A Quick Guide to Implement Schema Markup on WordPress to implement schema markup on your WordPress website.
Optimizing Your Blog Posts
Often most newbies make the mistake of thinking that installing WordPress SEO plugins is enough to make the website SEO friendly. However, it is a myth as SEO is an ongoing process that one should keep up with everything to see maximum results.
All the top WordPress SEO plugins will allow you to enter an SEO title, meta description, and focus keyword for every post, page, or custom post type. It will also give you a preview of what your users will see when your web contents are displayed in Google.
We highly recommend you optimize the title and description of every blog and page to get maximum results.
Performing Keyword Research for Your Web Contents
Keyword Research is a research technique used by the content marketer and SEO experts. It will help you discover the words that users enter in the search engine to find their required content, products, and services. You can use these words and phrases on your content to drive more organic search traffic to your website.
There are tons of free and paid keyword research tools that you can use to search for the best keywords for your web content.
Proper Usage of Tags and Categories
WordPress comes with an inbuilt feature to sort and organize your blog post into tags and categories. It will make it easier to manage your content by different topics and help the users to find the content that they are looking for.
Besides, categories and tags will also help the search engines to understand the structure of your website and contents.
As a web blogger, you can place your blog post into different categories and add specific tags to make it easier for the users to browse your website.
Add Internal Linking on Your Web Content
Another technique to improve the SEO of your WordPress website is adding internal links. It is simply adding links from one post page/post to another within your website.
Internal linking adds lots of value to your post not only in terms of SEO but also to site navigation.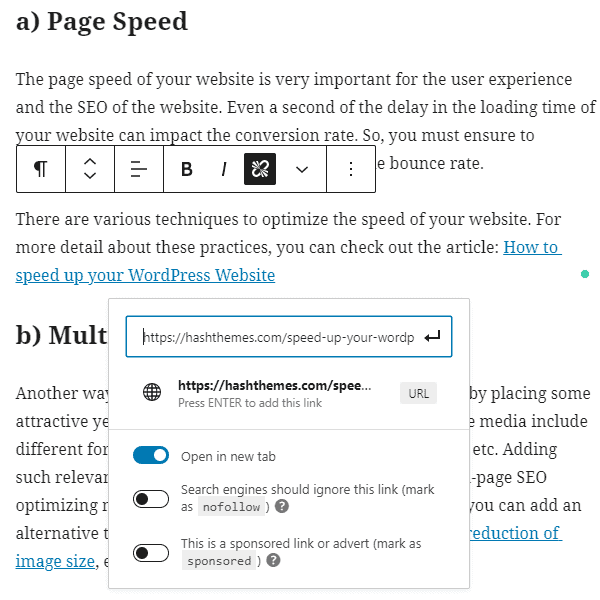 We recommend you add at least 3 to 5 internal links to the blog posts before making it live on your website. This will help you boost the page view and time spent by a user on your website which will ultimately improve the SEO score of your blog posts.
Add NoFollow Attributes to External Link
Link Building is the backbone of SEO. When you add a link to another website, you are actually passing your website's SEO score (link juice) to that link by saying the link is trustworthy.
For good search engine ranking, you need to make sure that you are getting more link juice from other websites instead of giving it away. So, if you are linking to a low-quality website (website having a lesser SEO score than yours), making it a nofollow can be in your best interest so that you don't pass the link juice.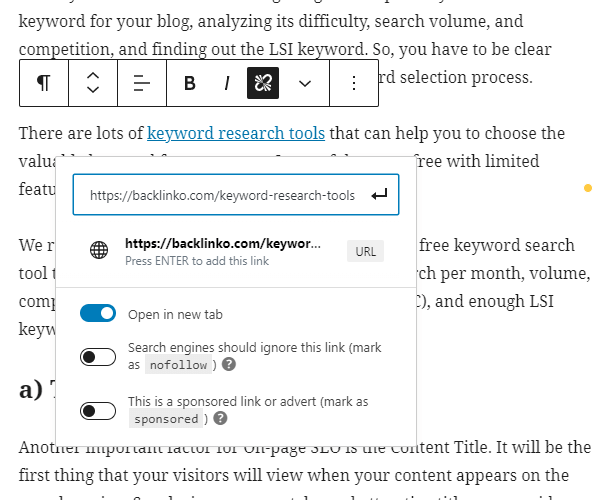 By default, WordPress does not come with an inbuilt option to make links nofollow. However, if you are using a WordPress SEO plugin like RankMath or All in One SEO, you will be able to make the links nofollow from the Add "nofollow" to link option.
Full Posts and Summary (Excerpt)
WordPress allows you to display and link your blog posts from a number of pages like Homepage, category archive, tags archive, date archive, author pages, and many more.
By default, all the posts will be displayed in full text. This is good if you have a few short blogs on your website. However, if your website has many long blogs, displaying the full text on them can impact the loading time of your WordPress website and harm the SEO. So, displaying an excerpt or summary of the blog post will be a good solution.
To display a summary of the blog posts instead of the full text, log in to your WordPress dashboard and go to Settings >> Reading. Now, go to For each post in a feed, include the option, and select summary.
Once done, click on "Save Changes" to save your settings.
For detailed instructions to add excerpts to your blog post, you can go through the article: What is An Excerpt and How to Add Excerpt to WordPress Page and Post?
Conduct SEO Audit Regularly
If you are not sure that your WordPress website is properly optimized then, you can perform an SEO audit. There are different tools like UberSuggest, Diib, and SEMRush that provide reports of the SEO audit done on your website including all the errors and their fixes. So, we recommend you use the audit tools regularly to check the SEO of your site.
To know more about the audit tools, check out the article: Best SEO Analyzer Tools
Fix Broken Links of Your WordPress Website
Having broken links on your web content is not good for the ranking. They make it harder for the Google bot to crawl the web contents and can provide a negative effect on the SEO of your website.
The easiest way to check for the broken links is from the Google Search Console. It will show you where the broken links are so that you can fix them.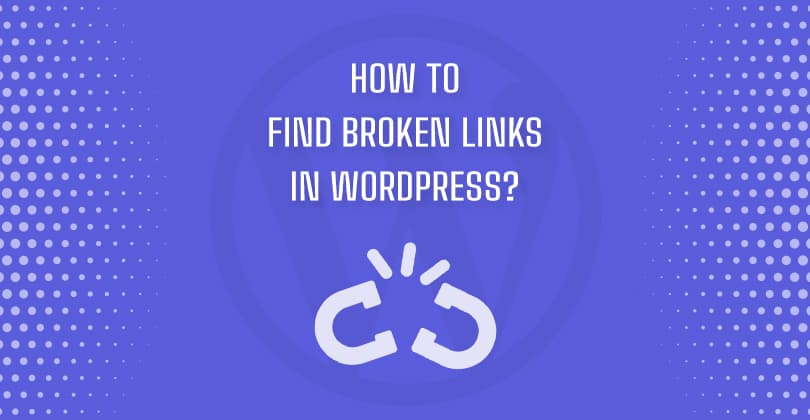 For more information about fixing the broken links of your website, check out the article: How to Find Broken Links in WordPress?
Speed for WordPress SEO
Even if you follow all the SEO basics and practices mentioned above, you may still lose a large chunk of visitors if your website is slow. Therefore, it is really important to have a website with a good loading speed.
Therefore, we recommend you to use tools such as Google PageSpeed Insight, Pingdom, or GTmetrix to check out the speed of your website. After the speed is checked, you can perform different steps to optimize the speed of your website.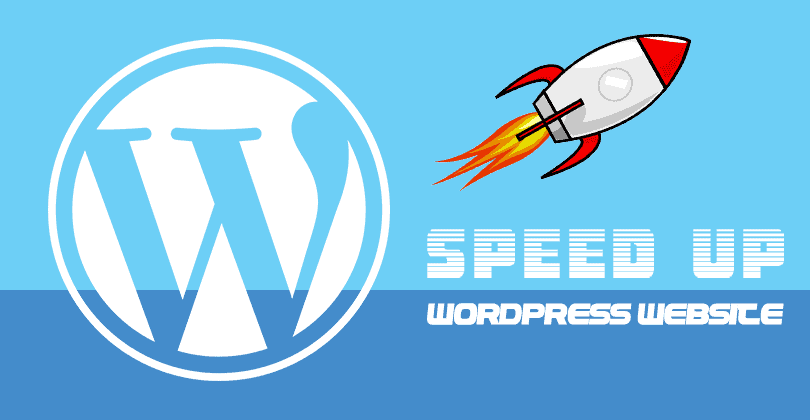 Here are some of the tips that you can apply to maintain the speed of your site:
Image Optimization
The usage of images will make your website more attractive and engaging. However, it takes more time to load and can make your website slower if you are not careful with the image size and quality. You need to make sure that all the images are well optimized so that it does not hamper the loading speed of your site.

If you are looking for a detailed guide to optimize the images of your website, check out our article: How to Optimize Images Without Losing Quality?
Also, if you are looking for a WordPress plugin that will automatically optimize the images of your website, you can go through the collection of Best WordPress Image Optimization Plugins
Use Content Delivery Manager (CDN)
A CDN will help you to speed up your website by storing different versions of your website on different servers across the globe. That way, when a visitor visits your website, it will be loaded from the nearest server location to the physical location of the visitor.
To know more about CDN, check out the article: What is CDN and How It Helps to Speed Up the Website?
Usage of a WordPress Cache Plugin
A cache plugin will generate static HTML files instead of regular PHP files run by WordPress. This will minimize the request between the server and the user browser which decreases the speed of your website.
If you are looking for a caching plugin for your WordPress website, check out the article: Best WordPress Cache Plugins to Speed Up WordPress Website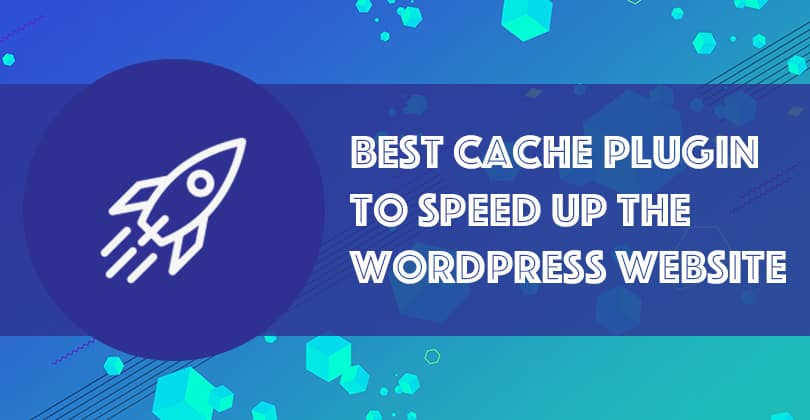 These are some of the steps that you can take to optimize the speed of your site. For detailed instructions to improve the loading time of your website, you can follow the article: How to Speed Up your WordPress Website?
Security for WordPress SEO
Like speed, security is another important factor for a better SEO of your website. Search engines like Google would not want to direct their users to a website that provides an online security threat. So, in order to have a good ranking on the search engines, one must ensure their website is fully secure to the browser.
Here are some of the security tips that you can implement to make your website secure. It is very important to follow as Google can penalize a website if it breaches security which may result in total exclusion from search results.
Usage of SSL / HTTPS
One of the common ways to make your website secure is by adding an SSL / HTTPS certificate. It adds an extra security layer to your website which makes it more trustworthy.
Most of the top WordPress hosting companies offer free SSL certificates. So, if you host your website from a reliable hosting provider, your website will be implemented with the SSL certificate.
To make your website secure to the browser, you might also consider installing WordPress plugins like Sucuri Security, Wordfence Security, All In One WP Security & Firewall, or Anti-Malware Security and Brute-Force Firewall.
Change the WPS Login URL
Another way to make your website secure is by changing the Login URL of your website. This way, your website will be more secure from hackers and attackers who can disrupt your website.
For detailed instructions on changing the WPS login of your site, please check our article: How to Change Login URL in WordPress?