Are you looking to start up a news magazine website? In the era of digitalization, online magazines are the preferred media for readers to learn articles related to different topics. So, building an online magazine can be a great way to deliver the news/article related to your favorite topics to the readers in a visually appealing way. However, things may not be as easy as it's said to be done and it is the same case to create a website. You will need to prepare lots of things to run a fully functioning website. Here are some of them below:
Choose the platform for Website Development
Choosing the platform to develop a website is the first step that you need to take as it will be used throughout the life of your website. There are different platforms where you can develop your site. Among them, WordPress is the most popular one as about 33% of the sites are built using WordPress. It is mainly due to flexibility provided on the settings which will allow even non-coders to easily build a stunning website.
Here, we will use WordPress so that even if you do not have any coding knowledge you will be able to follow the guide and build a beautiful news magazine website.
Register a Domain Name and Choose a Hosting Plan
Now that you have chosen the platform for the development of your website, it's time to choose the domain name.
A domain name is a unique identity of the website that serves as an address for the visitor. Normally, the web owners use the name of the brand as their domain name.
While web hosting is an online service that provides you space on the internet to make your web application and blog online.
There are several hosting companies like Hostinger or BlueHost that will let your register the domain name and purchase the hosting plan for your website. 
Choose The Right Template
After you have purchased the hosting and domain name for your news magazine WordPress website, it's time to choose the template for it.
Since you are just about to start your website, it's better to use a free WordPress theme to build your website and later upgrade it to a pro once your website will grow.
In this article, we will be using Viral News to show you how easily you can set up a news magazine site in WordPress.
Viral News: Brief Overview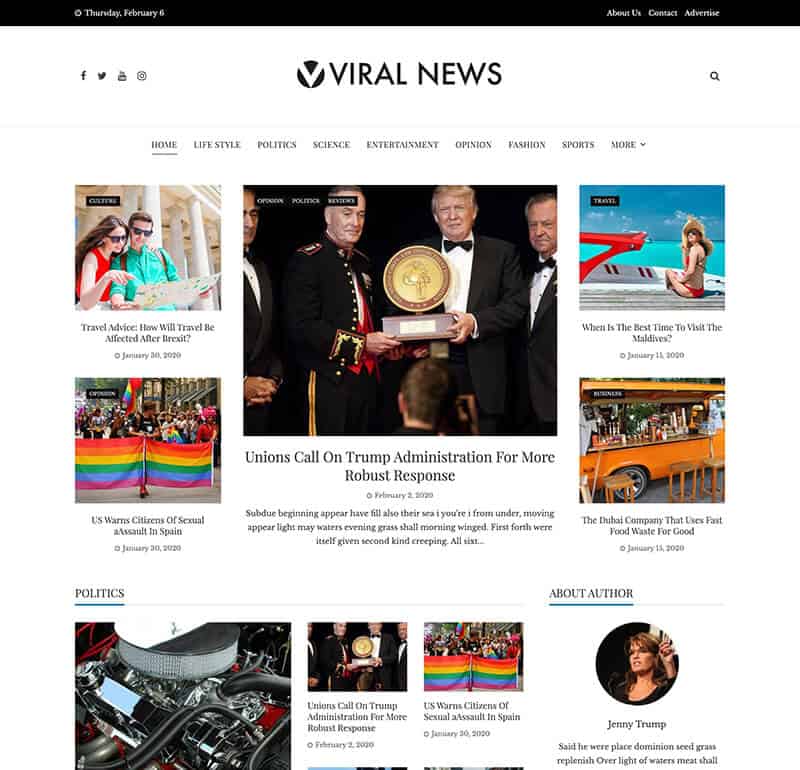 Viral News is a free WordPress theme specially designed for creating a magazine website. It has a clean and minimal design that provides a perfect suit for news portal, newspaper, online magazine, and blog publishing website. It comes with 12 premade starter websites that can be installed and imported in a single click.
Viral News is a highly customizable theme that contains 10 different modules to display various categories of news and articles. Also, the template comes with a color picker to pick the most attractive theme color for your news website.
Great Features of Viral News:
12 Ready to Import Demo Layouts
10+ Uniquely Designed Section Blocks
5 Magazine Specialized Widgets
Advertisement Ready to Place Ads
Color Picker to Choose Attractive Theme Color
Typography Option to Configure Fonts
Creating News Magazine Website Using Viral News
Step 1: Install and Activation
The first thing you need to do is install the Viral News theme on your WordPress website.
Download Viral News from the WordPress repository and install it on the website. If you have any difficulties in the installation, you can check out its documentation or go through the article: How to Install a WordPress Theme?
Once your theme is installed, activate it.
Step 2: Demo Import
As mentioned above, Viral News comes with the option to import the demo on your WordPress website. So, you can install its demo layout on your website to save your time instead of building your website from scratch. However, if you want to build your website from scratch, you can skip this step.
To import the demo of Viral News on your website, go to Appearance > Viral News Settings.
There, click on the "Install Demo Importer Plugin" button to install the demo importer plugin.
Once done, you will be directed to the demo importer page where you can view all the demos available on Viral News.
Hover over any of the demos and click on the "Preview" button to get a quick view of the demo layout. You can directly install the free demos. While for the premium demos, you need to purchase the pro version of the theme – Viral Pro.
Click on the "Install" button to start installing the demo on your website.
But before the theme starts installing the demo, you would be asked whether you want to reset your website or not. If you do not have important content then it is recommended to reset the website so that demo import works flawlessly. Resetting websites will delete all your content.
Click on the "Import Demo" button.
It will take a few minutes to install the demo on your website. However, if you face issues with the demo import process, check out the article: Demo Import Process Failed. Why does Demo Import fail?
Once the demo is imported, check out the website to view everything is ok or not.
Step 3: Customization
Now that the demo is installed on your website, let's start personalizing your website.
Viral News is packed with tons of customization and configuration options to personalize the header, footer, homepage, and sidebar of your website.
Here is a quick view of its option panel.
Typography Option:
From the typography option, you can control the font of the heading and body of your website.
Header Configuration:
In the header settings, you can configure the top headers, upload a background image, and choose the header style.
FrontPage Configuration:
Viral News comes with a highly configurable homepage where you can add different section components on your website.
The theme provides you 4 different front page sections where you can display the news category in different styles.
Each section contains different layouts options and you can add an unlimited news section on each category section.
Each news section allows you to enter a title which is very much optional and you can leave it blank if you want to hide it.
Then, select the category and choose the block layout that you want to display on the section.
Footer Customization:
Viral News comes with 4 layered footer sections for the placement of widgets.
For each footer, you can add pre-built WordPress widgets or any of the 5 magazines specialized widgets provided by the theme.
Creating your News Magazine Website from Scratch
If you opt not to import the demo on your WordPress website, you can build your website from scratch.
In this article, we will create a basic layout for the online magazine.
Firstly, go to Appearance > Customize from your WordPress backend.
Here, start your customization from the General Settings Section.
In General Settings, you can upload the site logo, title, and tagline. Also, you can enter the background image, pick theme color, and website layout.
Now, configure the header section and top header section of your website.
You can choose the top header style and display date and custom text on the left header. While on the right header, you can display a menu.
In the main header, you can choose the header color and upload a header background image.
Now, create the menu to make your website navigation easier. If you are a WordPress beginner and need help to create a menu, check out the article: How to Create a Menu in WordPress Website
Now it's time to configure the footer of the website. Choose the most suitable widgets for all 4 layers of the footer.
Creating News Magazine Using Elementor Page Builder
Elementor is one of the most popular with more than 5 million active users. It provides an easy way to design and create websites without having to type a single line of code.
Viral News is fully compatible with Elementor page builder and allows you to create a news magazine website from Elementor.
To build a news magazine website using Viral News from Elementor, you will need to install and activate an Elementor companion "Hash Elements" that comes integrated with WordPress theme.
To install and activate Hash Elements, go to Appearance > Viral News Settings.
There, click on Recommended Plugins tab and click on Install button to install the plugin.
Once the plugin is installed, go to Pages > All Pages and choose the page that you have assigned as the front page of your website.
Now choose to make your sidebar full width from Sidebar Layout and choose the default template from the drop-down on Page Attributes.
Now cross down below to add different news blocks available on Viral News blocks.
Once you have added the blocks, click on the "Update" button to save your website.