WordPress is the most popular content management system and website builder. Millions of people use it to create unique websites and build exciting user interfaces.
WordPress offers dozens of exciting features, with new ones added all the time. Every update introduces a few new features, so it's easy to miss some of them and stay oblivious to their existence.
Believe it or not, WordPress is full of handy features most people don't even know exist. This article will cover the best WordPress features you probably didn't know existed.
Reusable Gutenberg Blocks
As you already know, WordPress sites are built using blocks or block groups. WP has taken this approach from day one, and most users got used to building pages that way in no time.
However, what most users don't know is that the Gutenberg blocks used during page creation can be saved and used on other projects in the future.
Instead of creating everything from scratch, you can copy existing block structures when adding new content in the future. This less-known feature can be a huge timesaver and a way to increase your productivity as a content manager.
If you want to turn a Gutenberg block into a permanent reusable block, here is what you have to do:
Select the block you want to keep
Click on the Three Dots in the toolbar
Select Add to Reusable Blocks
Give the Name to your Block
Click on Publish, and hit Save
Dashboard Widgets
The term "WordPress dashboard" usually refers to the back-end part of WP.
However, the dashboard feature can do much more than simply welcome you whenever you log in. The platform allows you to add widgets directly to the dashboard to access essential website information and KPIs.
Some widgets are there by default. You'll always see links to the latest WordPress news, quick posts, and an overview of key page stats. You can also add numerous plugins to the dashboard to simplify other actions.
For example, some widgets give you an overview of how many visitors subscribed to your site in a day, as well as the total number of subscribers. That way, you'll always have a good idea about your content performance the moment you launch WP.
You can add and remove widgets from the dashboard using the drag-and-drop tool, and you can deploy widgets into one of four available columns. The screen options allow you to declutter the dashboard by hiding unwanted or unused widgets.
Distraction-Free Writing Mode
If you work from home, you know how hard it can be to stay productive every day.
There are too many distractions around you, so it's easy to lose focus and become unproductive. Well, WordPress has thought about that too, so they added a feature called "Distraction-Free Writing Mode."
While it won't remove all distractions around you, whenever you click on the feature, all options, tools, and other distractions simply disappear from the screen. The feature was added with the 4.1 updates, but most content creators don't even know it exists.
If you write content directly in WP, this feature might help you increase productivity and get things done sooner.
You can find the feature under the Visual and Text tabs. Once you click on it, all unnecessary elements disappear from the screen. The features will come back if you move your mouse to the far left or right of the screen.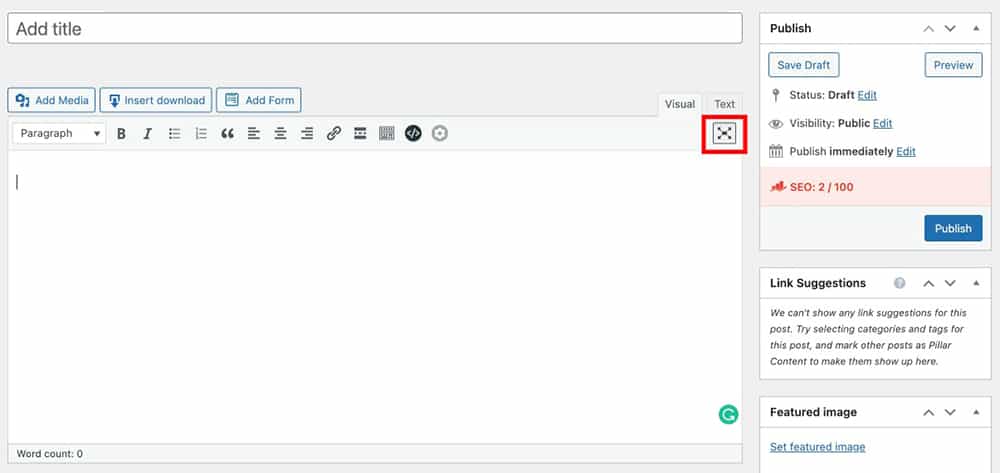 If you have already upgraded your default WordPress editor to Gutenberg editor (i.e. after the release of WordPress 5.0), you can enable the distraction-free by following steps:
Click on the Three Dots Option from the toolbar.
Now, click on the full-screen mode to enable the no distraction mode on your editor.
Alternatively, you can also enable the no distraction mode by pressing the keyboard shortcut key: Ctrl+Shift+Alt+F.
Sticky Posts
The platform's visual editor screen also hides other handy features that will make your content creation and publishing much easier. The sticky post future is an excellent choice for targeting first-time site visitors. You use the Publish panel to stick any post to the top of the front page.
Some users stick posts designed for new visitors; others use the feature on their most popular articles that bring in the most money.
The feature is easy to use and extremely helpful. All you have to do is go to the Publish panel located to the right of the visual editor. Click on "Edit" beside the Visibility: Public tab and check the "Stick this post to the Front Page" option. The post is then turned into a sticky post visitors see first when they land on the site.
In Gutenberg, you can simply make your post sticky by checking "Stick to the top of the blog" on the "Settings and visibility" tab.
Keyboard Shortcuts
If you spend a lot of time writing or editing articles in WordPress, this feature will be a true life-saver. It works the same way keyboard shortcuts work in other popular writing software such as Microsoft Word and G Docs.
However, WordPress doesn't tell you that you can use shortcuts to save time while writing. Many people found the feature after years of tedious mouse clicking.
The Keyboard Shortcuts feature allows you to complete all kinds of actions with the right combination of keys.
For example, instead of highlighting a section and clicking on Heading 2 to turn it into a heading, you can simply highlight the section and hit Ctrl+2.
You can access the entire list of available keyboard shortcuts by clicking on the "Toolbar Toggle" button and selecting "Click on the Question Mark".
If you are using Gutenberg block editor, you can view the list of available keyboard shortcuts by clicking on the "Three Dots Option" and "Keyboard Shortcuts".
It will take you some practice to master all shortcuts, but once you do, you will be able to complete more work in less time.
Split Post Into Multiple Pages
There are multiple reasons why splitting a post into multiple pages is a good idea. For one, it can help speed up page loading speeds in case of increased traffic. It can also improve engagement rates for lengthy articles by splitting a single post into two or more pages.
You might not be aware of it, but WordPress has a native feature designed to break up content into smaller pieces.
Moreover, when the post is split, WP creates clear "jumping off points" to allow readers to come back and pick up where they left off. You can access the feature by selecting the text editor next to the visual editor.
When the command prompt pops up, add the <!–nextpage–> HTML tag where you want to split the article. You can split the content into as many parts as you like.
Similarly, in Gutenberg, there are two methods of the split post into multiple pages.
Method 1
Click on the Three Dot option on the editor and select the editor type to "Code Editor".
Now paste the HTML tag <!–nextpage–> to the line from which you want to split the post to the new page.
Once done, click on Publish/Update button to save the changes that you have made.
Method 2
Below the line from which you want to split the multiple post, click on the + button and add custom HTML block on the editor.
Now paste the HTML tag <!–nextpage–> inside the block.
Once done, click on Publish/Update button to save the changes that you have made.
Embed Social Media Content
Using videos as extra content when releasing posts is an excellent way of engaging your audience. However, WordPress is known to be tricky when it comes to integrating external content.
WP developers have been working hard to simplify the process, finally adding a Gutenberg block called "Embed."
The "Embed" block will become your best friend once you realize how easy it is to use. It works like any other Gutenberg block. Simply paste the URL of the content you want to embed within the block and that's it. The top video production companies use this trick to embed YouTube videos to posts in seconds.
Built-In Shortcodes
Shortcodes are an essential part of WordPress from the start. They are used to help content managers customize web pages, but what most people don't know is that you can use them without a plugin.
WP already has built-in shortcodes you can use to customize posts.
Shortcodes can help you get things done faster, but keep in mind that they don't work with sidebars, so that might be a problem for some posts.
Add Features to Menus
Menus are another thing WordPress is known for. There are dozens of different menus with all kinds of options designed to help users create unique content.
But what most users don't know is that they can add any tool, feature, post, external link, or any other element directly to menus.
Some plugins and themes add so-called "specialist" menu items to streamline content management even further.
You can find the feature by clicking "Appearance," then selecting "Menus," and finally "Screen Options." You will find the option in the top right corner of the screen, and once you do, simply select the item boxes you want to see in the menus.
Post Scheduling
If you're one of those people that like to prepare future posts in advance, the Post Scheduling feature is just what you need to get the most out of every post. The feature allows you to schedule post-publishing days in advance.
Contrary to popular belief, the feature is available without a plugin.
Open the "Publish box" found on the right of the "Post Editor." If you click on the Publish button, WP will set your post to automatic publishing. However, if you select the "Edit" button first, a window will pop up, giving you more publishing options, such as the time and date of posting.
Simply enter the date and time and hit OK. The publish button will then be replaced by a Schedule button which holds all publishing information.
In Gutenberg block editor, you can schedule the post by clicking on the Immediately link and selecting the date that you want to schedule the post.
Once done, the publish button will then be replaced by a Schedule button which holds all publishing information.
If you are running an online news website and have lots of that you need to schedule, you can go through the article: How to Bulk Schedule Posts in WordPress?
Conclusion
WordPress is a flexible platform that allows you to create unique, engaging content. It comes with a long list of useful features designed to maximize your content output and help you build amazing websites.
The best part is that WP keeps adding new features to help content managers streamline their efforts even further.
Remember to update your WP regularly and read the patch notes to learn more about the newly added features in the future.
---
Harold Ader is a digital marketing specialist and freelance blogger from Manchester. New trends in digital marketing and digital commerce are his main focus. In his spare time, he writes a lot for DigitalStrategyOne.

Author bio