In 2022, you shouldn't necessarily hire a developer to create a website. You can use WordPress page builders with multiple technical and styling opportunities to launch your own website! As a result, you create a product that 100% meets your expectations. Plus, you save money not using the services of the high-paid developer.
Along with these advantages, any page builder doesn't require knowledge of coding. It means that everyone can create pages and posts with a page builder due to its drag and drop nature.
Still, it's not always easy to choose the best drag and drop WordPress page builder. When choosing the one, you should pay attention to the following issues:
Compatibility – if you don't want to change an initial WordPress theme.
Features – make a list of features you want to work with to create a website and check them out before using a builder.
Responsiveness – you want to get a responsive, mobile-friendly layout. Thus, the builder must guarantee it.
SEO Optimization – creating the SEO-friendly website is super important nowadays. When you need your website to be visible, you should use a builder that provides it. In most cases, the Yoast SEO plugin stands for SEO-optimization.
Here is a collection of the top 10 products that worth your attention. Familiarize with brief characteristics of the best drag and drop WordPress page builders and choose a favorite!
Elementor
Elementor is a free advanced page builder for WordPress. It is well-known due to the high working speed, an enormous number of widgets, technical and styling options, and powerful JetPlugins family.
It offers a rich collection of the page templates. You can use them to create all types of pages not even leaving a page builder.
It's possible to create any type of the page or a custom post for WordPress. A great thing about Elementor is that you can change a theme but still leave a design untapped.
The design opportunities are literally unlimited. For instance, you can get a control over some sections – change their width and height, resize the columns and change their positions, customize the content inside of them. You can also set the padding and margin to create a normal size of the pages when using a mobile version of the site.
Along with other amazing features, Elementor has:
an ultimate collection of headers and footers.
a rich selection of different buttons, icons, progress bars, tabs.
opportunity to create images boxes and galleries, icons lists, accordions, toggles, etc.
You can also expand the functionality of Elementor and purchase a PRO version of the page builder. It offers to:
create different types of posts, nav menus, price lists, and tables.
add forms, portfolios, animated headlines, media carousels.
Elementor offers even more opportunities and you can familiarize with them on its official website. Now, let's move to the other drag and drop website builders!
Download Elementor for Free Get Elementor Pro
Themify Builder
Themify builder will cost you $39. It offers a couple of ready-made modules that you can use to build a page or add a custom post.
Unlike Elementor, Themify page builder works both on the front- and back-end. In the front-end admin panel, you can build the modules. The builder offers a solid set of options that allow creating unique modules in a matter of minutes. In the back-end panel, you can make live edits to the designs and preview them.
You don't need knowledge of coding – you can simply choose from 60 beautiful layouts and add high-quality animation to liven a page up.
Themify builder is 100% compatible with any WordPress theme.
Download Themify Builder for free Get Theme Builder Pro
The Divi Builder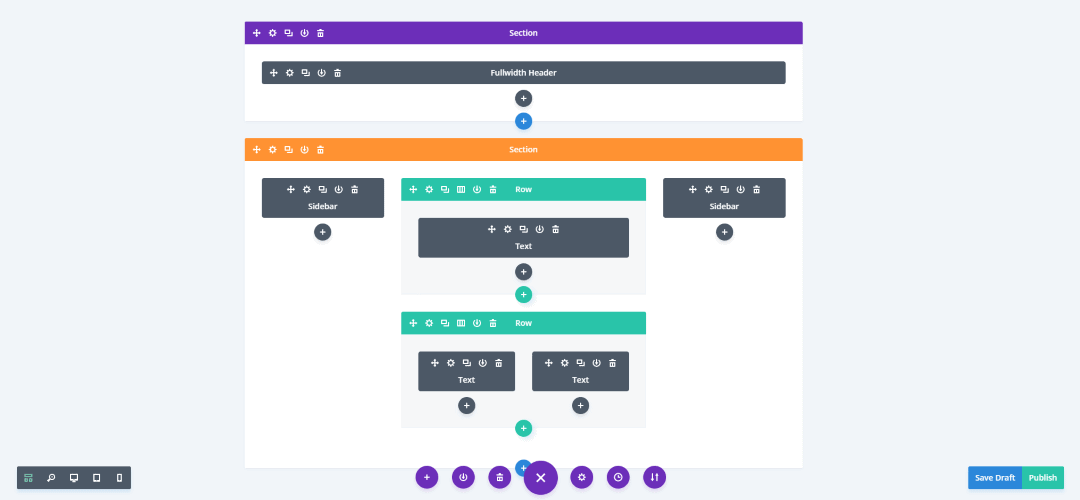 The Divi differs a little bit from the other drag and drop WordPress page builders. This page builder doesn't have a common front-end editing panel. It has a set of canvases that you will see right on the editing page. So, you just choose the element, edit it, and put it into canvases. It offers to adjust every element to your taste.
The other styling opportunities are also solid. For instance, you can:
add content blocks with text and lightbox images.
add quotes and testimonials.
place image sliders, videos, tabs, boxes.
work with columns.
add buttons, icons, and lists.
The Divi drag and drop WordPress page builder cost $89.
Beaver Builder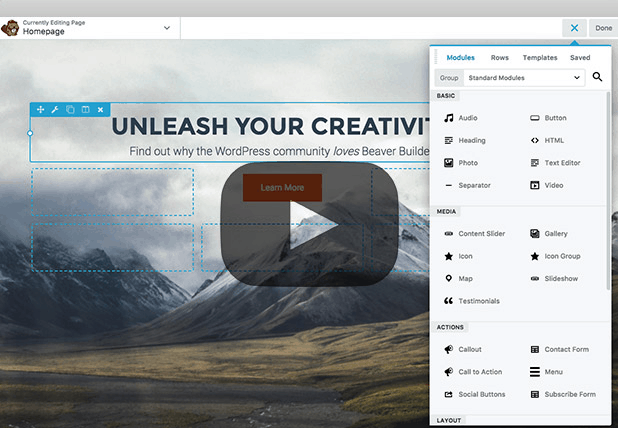 Many experienced developers and designers name Beaver page builder one of the most powerful and progressive drag and drop website builders ever. The price of the product is $99.
Working with this builder is a pleasure – you just go step by step until reach a result. This plugin makes it possible to:
use over 30 pre-made templates;
build column-based layouts and add text or images there;
use any theme and change the theme without losing the content;
make an ultimate front-end editing – edit everything you see.
Download Beaver Builder for Free Get Beaver Builder Pro
BoldGrid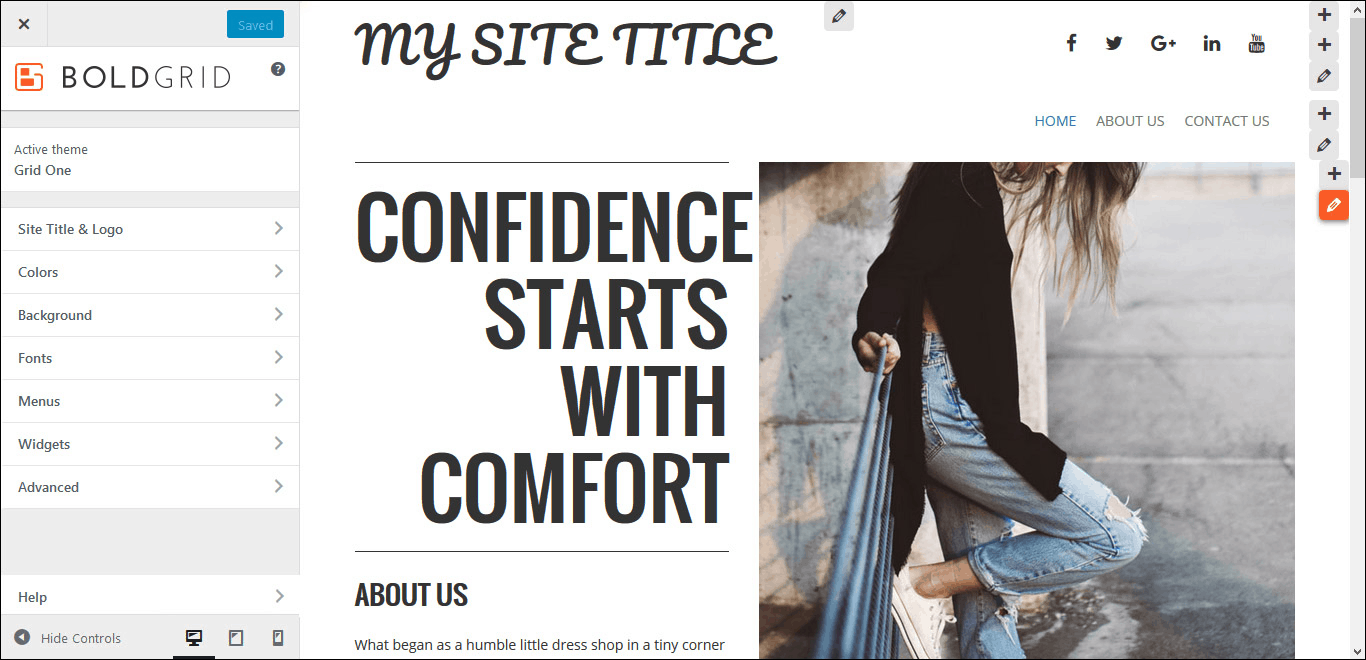 In fact, this WordPress drag and drop framework makes it possible to create custom pages and posts using well-known elements. The major difference lies in the two-stage process. The workflow is divided into two steps – inspiration and customization.
During the first one, you can get inspired by the hundreds of designs and content styles from your industry. The second stage stands for the creation of your own website with the help of 200+ WordPress themes with pre-made templates.
This drag and drop WordPress page builder has a solid pack of plugins. Plus, you can build a website in the cloud easily!
The tool will cost you $60 a year.
SiteOrigin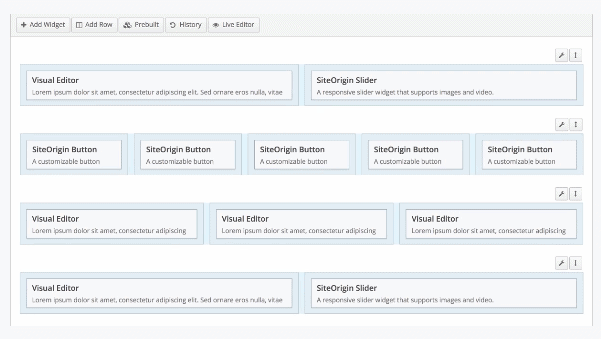 Probably, this is one of the most popular page builders for WordPress. It works well with almost every WordPress theme and offers a rich collection of widgets. Due to the live editing opportunity, you can customize the design and make changes in a real time.
With the tool, you can add all types of content, frame it in columns and customize them, create an appealing background, add paddings, etc.
Unlike other drag and drop WordPress page builders, SiteOrigin is absolutely free.
WP Bakery
Here is another super popular WordPress page builder plugin with over 4 million downloads. It also works as both front- and back-end editor making it's possible to edit a page quickly and easily.
If you want to make the functionality of your website more powerful, you can add a couple of the WordPress plugins such as WooCommerce or Yoast SEO.
It has a rich template library with free premium quality layout templates, a collection of 50+ content elements, and 250+ add-ons. This is a skin builder. It means that you can choose the color of the theme to meet your brand identity.
Now, you can purchase this tool for $64.
Live Composer Page Builder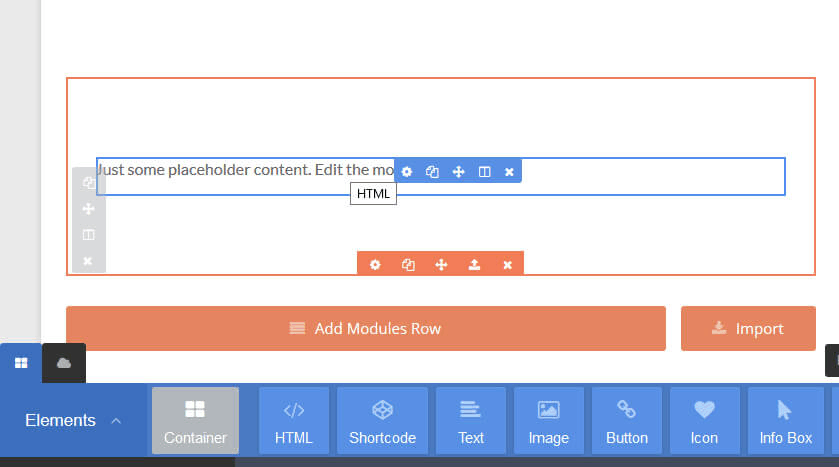 Live Composer is a free front-end page builder with more than 30 easy customizable modules. You can create custom pages and posts and check them out in a live preview (you will see the changes right away).
By the way, you can export and import the sections or pages fast in the other pages. It makes the process faster. It might be a little bit complicated for the novices but you still should consider this option.
MotoPress Content Editor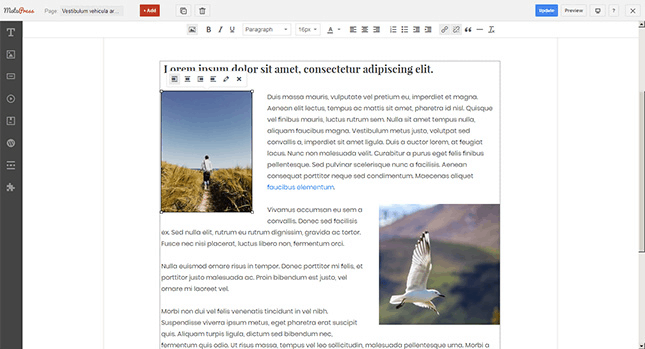 This is one of the best drag and drop WordPress page builders that provide a front-end editing. You can use 30+ beautiful modules and customize them due to the drag and drop nature.
Though the premium version costs $29, the styling options are limited. Still, this is a good start for the novices, who want to build their own website, indeed.
Download MotoPress Content Editor for Free Get MotoPress Content Editor
Cornerstone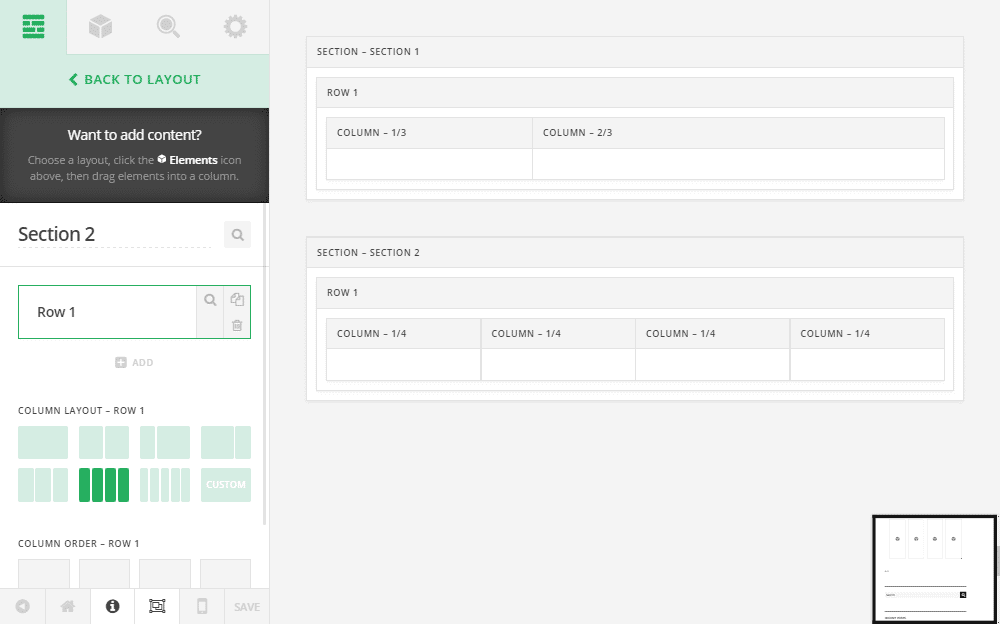 You can find this premium WordPress drag and drop framework on the CodeCanyon plugin marketplace. This is one of the most popular plugins on the marketplace. You can work with 40 drag and drop elements to create custom pages and posts.
You can use the Cornerstone page and block templates to build the pages fast and stuff them with content in a matter of minutes. Another important advantage is that working with this drag and drop WordPress page builder is super easy. Plus, if you have any CSS coding knowledge, you can add CSS styles with live previews.
The plugin costs $39 for a premium version.
This was the last item in the collection of the best drag and drop WordPress page builders. The article contains only responsive, SEO-friendly, easy-to-use products. Regardless of your choice, you will manage to create custom posts and pages fast. Choose your favorite and enjoy the process! 🙂
You can also check out our comparison blog of Elementor Vs WPBakery – Which is the Best WordPress Page Builder Plugin?