The comparison between WPBakery and Elementor can be an interesting one as both the best WordPress page builder plugin are very popular in two vastly different market positions.
On one side, Elementor is one of the most downloaded plugins in the WordPress.org repository with enormous 5 million+ active installations. It has an intuitive user interface and simple yet advanced options to create any type of web page in no time. Due to this reason, many WordPress developers have created their WordPress theme entirely based on Elementor.
On the other hand, WPBakery Page Builder has been one of the best-selling WordPress plugins for almost a decade in the CodeCanyon marketplace. Due to its high popularity, you can this page builder included with most of the premium WordPress themes available in the Themeforest.
So, this comparison will help you to know better about these page builders and will allow you to choose the most suitable one for your website.
Here we will first give a short overview and compare the features of both plugins. Then, we will check out their interface, pricing, pros, and cons.
With that being said, let's get this comparison started:
Overview and Features
Elementor Page Builder:
Elementor is a freemium page builder for WordPress websites. It contains a free version with more than 5 million active users. The plugin is packed with endless possibilities to create astonishing web pages without having to touch the codes. It comes with over 100+ inbuilt page templates to choose the best matching layout for your brand.
Main Features of Elementor:
Live Designing and Customization
100+ Beautiful Full-Width WordPress Templates
300+ Inbuilt Element Blocks to Choose From
Responsive and Retina Ready
Built-in Maintenance Mode and Coming Soon Page
Role Manager
Translation Ready
Multilingual and RTL Supported
Download Elementor for Free Purchase Elementor Pro
WPBakery Page Builder:
WPBakery is one of the most popular premium page builders for WordPress. It has been donning one of the best seller tags on the CodeCanyon marketplace for almost a decade and has over 2 million users. The plugin is packed with 50+ inbuilt content elements to build professional web pages in no time. Additionally, the plugin supports over 500 add ons/extensions to enhance its functionality.
Main Features of WPBakery:
Intuitive Drag and Drop Interface
50+ Inbuilt Content Elements
Frontend and Backend Editor Supported
60+ Predesigned Page Layouts
User Role Control
MultiSite Support
Parallax and Video Background
Translation Compatible
User Interface:
Most of the site owners are going to spend lots of time while building their website. So, while selecting a page builder, its user interface is a very important factor that you need to consider if you want to enjoy using it. Let's take a look at the interface of both Elementor and WPBakery to find out which one has better.
Elementor Page Builder:
Elementor comes with a smooth frontend editing interface to build everything live. You can simply choose and drag-drop your fields, increase the spacing, set column, and layouts. You will have total control over all the elements that you want to include on the website.
WPBakery Page Builder:
WPbakery provides you with full control over your website. You can choose any type of layout as you prefer and play with hundreds of customizations options that are available in the plugin. Besides, you can either choose a backend editor to build your website or simply switch to real-time frontend editing.
Number of Available Elements
Both of these page builders come with a large collection of elements to create web pages. However, to become the right page builder, it should have all the core elements that a user needs to build an attractive and effective page. The functionality and usability of these elements should also be taken into consideration.
Elementor Page Builder:
Elementor Page Builder includes lots of general elements on its free version. While the pro version will allow you to take advantage of 53 additional elements to easily build your website quickly and easily as possible.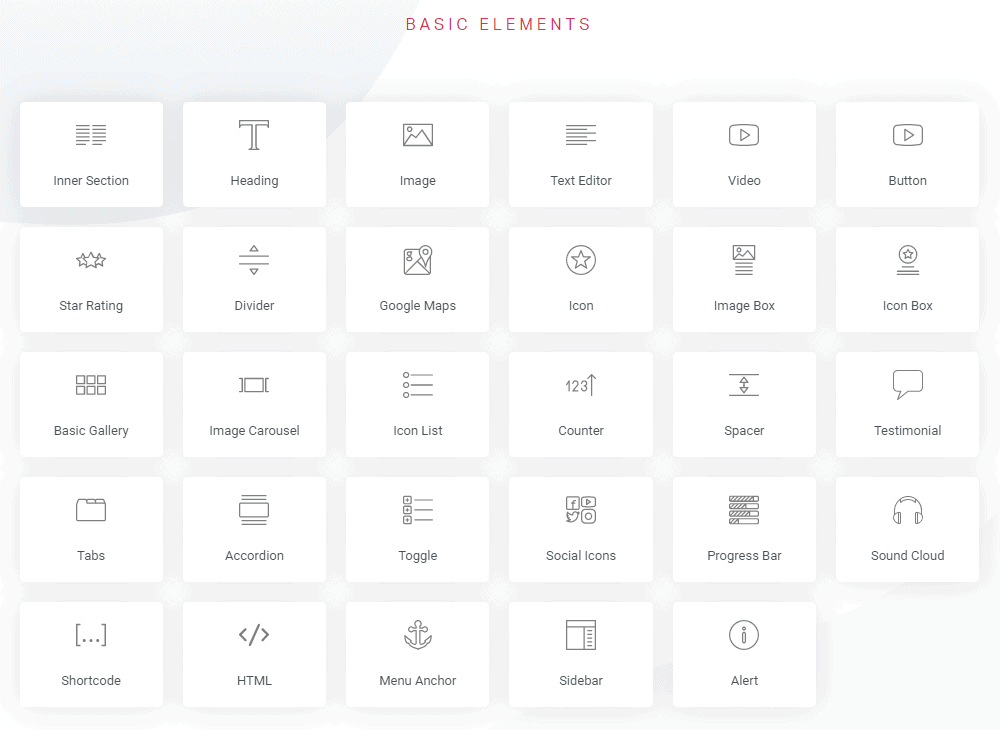 Additionally, many free and premium extensions and addons are there to add different elements on the page builder.
Easy Elementor Addons, Essential Addons for Elementor, Premium Addons for Elementor, and ElementsKit Elementor Addons are some of the best ones.
If you are looking for an extension to enhance the functionality of your Elementor page builder, you can go through our collection: 20+ Best Elementor Addons for 2022 (Free + Premium Extensions)
WPBakery Page Builder:
WPBakery Page Builder includes 40+ content elements, 12+ WP widgets, social media and elements for structure. If the theme you are using on your website is compatible with WooCommerce, you can also add a cart, featured products, and other online store elements.
Besides, many free add-ons and extensions are also being developed for WPBakery to add various sets of elements.
Ultimate Addons for WPBakery Page Builder and All In One Addons for WPBakery Page Builder are some of the popular ones.
Styling Options
Custom styling options will allow you to style up your website and make it unique and appealing. Both plugins offer highly customizable styling options.
Elementor Page Builder:
Elementor styling option is separated into two tabs: Styles and Advanced
In the style tab, you can adjust the alignments, color, and other basic settings.
Whereas, the advanced tab will allow you to adjust animations, borders, margins, padding, responsive design, and z-index settings. Besides, you can add custom CSS into specific elements as per your requirement.
WPBakery Page Builder:
The styling option of WPBakery is a bit complex. It depends on the type of content that you are editing. There are not many choices to edit the basic elements. You can change the backgrounds, borders, margins, and padding for the elements.
Number of Templates Available
Templates are real time savers. They allow you to choose and use the existing designs and let you change it as per your need.
Elementor Page Builder:
Elementor Page Builder comes with 120+ inbuilt page templates to choose from. Besides, you can reuse your own template design if you want to.
WPBakery Page Builder:
WPBakery contains 85 predesigned templates to choose from.
Pros and Cons:
Elementor Page Builder:
Pros:
The interface of Elementor is quite easy to understand and user friendly
Contains an impressive collection of blocks and template library
The live editing mode allows you to instantly view all the changes made
There are no shortcodes that lead to lock-on
Even the free version of the plugin contains many helpful features
Cons:
No white label option
Header customization is somewhat limited
WPBakery Page Builder:
Pros:
Plenty of element set and templates
Multiple customization options
Social media elements
Both frontend and backend editing
Cons:
No free version of the plugin
Customization options might be overload to build simple personal websites
Shortcodes lead to lock-on
If you deactivate the plugin, you will be left with a mess of shortcodes
Pricing:
Elementor Page Builder:
You can get the lite version of Elementor Page Builder available for free at the WordPress repository.
Elementor offers 3 different pricing plans for its premium version. All three of these plans are yearly subscription-based starting from $49.
WPBakery Page Builder:
WPBakery Page Builder is a premium WordPress plugin available in the CodeConyon marketplace at a price of $64. It comes with a one-time payment system. So, once you have purchased the plugin, you will get its free update for lifelong. Also, if you purchase a theme from the themeforest.net marketplace, you are likely to WPBakery for free if the theme is integrated with the page builder.
Which is the Best WordPress Page Builder Plugin?
By now, you should already have enough information about what Elementor Page Builder and WPBakery Page Builder offer. Now it is up to you to pick the most suitable page builder plugin for your WordPress website.
If you are a WordPress beginner and want to build a simple professional website, you can choose Elementor. If you want to make an advanced website and play with different elements, you can go for WPBakery.
Also, check out the collection of: Top 10 Drag and Drop WordPress Page Builders 2020