Every website has to perform maintenance at some point or another. Whether it is due to the site's upgrade portion or due to some technical issues, your website may be unavailable for some time. In that period, your visitors might walk away from your website and never return if your website do not have a proper maintenance mode landing page.
Our premium WordPress themes come with an inbuilt option to set up the maintenance mode page. The maintenance mode page will display an attractive landing page when the website is having any type of maintenance or is facing downstage. To set up the maintenance mode page:
Go to Appearance > Customize > Maintenance Mode Settings.
Enable the maintenance mode screen if there is any type of maintenance to be carried out. If not leave it disabled.
Choose the maintenance layout i.e. Full Width Style or Half Width Style.
Upload the Logo of your website and add the Maintenance Mode Text.
Enter the date when you are planning to make your website live.
Insert the shortcode for MailChimp or any other contents like contact form, subscription form, revolution slider and many more.
Also, enter the social icons.
Now choose any of the 4 Maintenance Mode Background Type.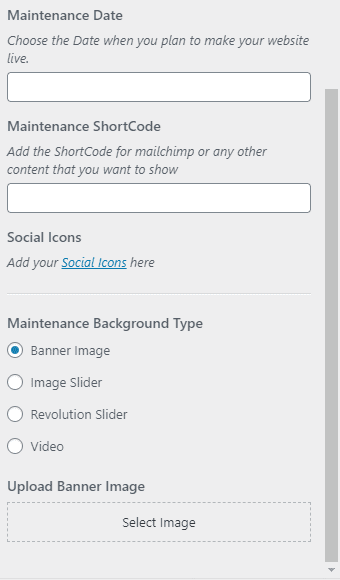 Then, go to Style tab to pick the most favorable background color, background overlay color, title color, text color, counter color, and social icon color.
Once done, click on the "Publish" button to save changes.
You can design the Maintenance page in your own way. However, the basic design looks like below