This site is all about Word-press themes, but we are fans of using templates for other stuff as well. It makes life easier, particularly when it comes to resumes.
When applying for jobs, it's a very wise strategy to use a template that will help you appear professional and well organized. Resumes are essentially marketing brochures that make your skills and credentials appealing to those in a position to hire. Graphic design is an integral part of any good marketing campaign and given the accessibility of well-designed resume templates, it only makes sense to utilize design in your own job seeking campaign.
We chose our top 6 resume templates for Mac based on their design quality and ability to effectively communicate your skills and job history as well as set you apart from the crowd.
1.The Jennifer resume template for Mac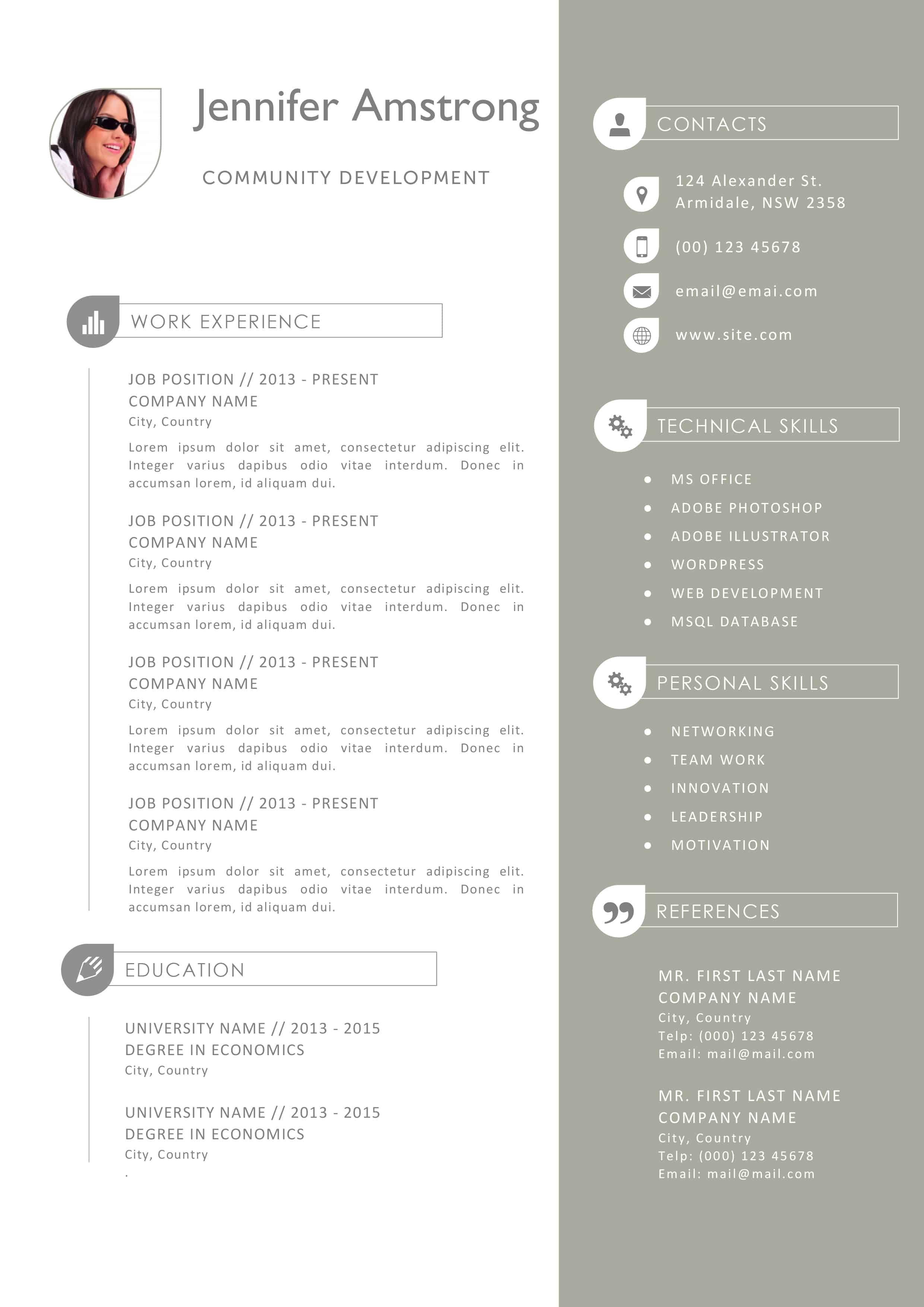 The goal of any resume is to effectively market your skills in a way that makes you stand out from the legions of other applicants who are trying to prove they are the best candidate for the job. With a highly-sophisticated template like the Jennifer resume you will surely get noticed! The two-toned grey/white sleek layout presents a very professional image and the contrasting grey block cleverly draws the eye of hiring managers to a quick hit list of the skills and contact information that you want them to remember. After a quick download, you can customize the Jennifer template using Word, Word for Mac or Apple Pages. Find this Mac template at Resumeshoppe.
2. Green and Grey Template
Prospective employers will immediately notice and remember the bold presentation of the initial letter of your name. Imagine yourself pouring over hundreds of resumes and saying "where's that B resume I liked so much". That, along with its clean layout, is the power of this template. The green accent color is used skillfully to lead the reader through the entirety of your resume; highlighting your credentials along the way and setting off your contact details at the bottom. This  Green and grey template comes with a second page and works in both MS Word and Word for Mac.
3. Alexa
Pink might seem a little too feminine for a resume, but many jobs demand the feminine quality that the Alexa subtly conveys with its pink and bold black design. Client services, human resources and social services are just some of the industries that prioritize 'people skills' which are, like it or not, often associated with a female approach to personal interactions. Pink is used sparingly to emphasize your name, contact information and the different resume sections in a neat and traditional layout. Alexa is available as a one or two page resume template for Mac or MS Word users.
4. Apple Pages resume on Etsy
This resume uses a black custom-made sans-serif font with orange accents to make that all important first impression. Its compact layout and straightforward font imparts an air of professional competence while the orange indicates you have the competitive edge that recruiters and managers are looking for. Available for instant download, Alicia can be edited by anyone on their MacBook or Windows PC/laptop.
5. Colorful cv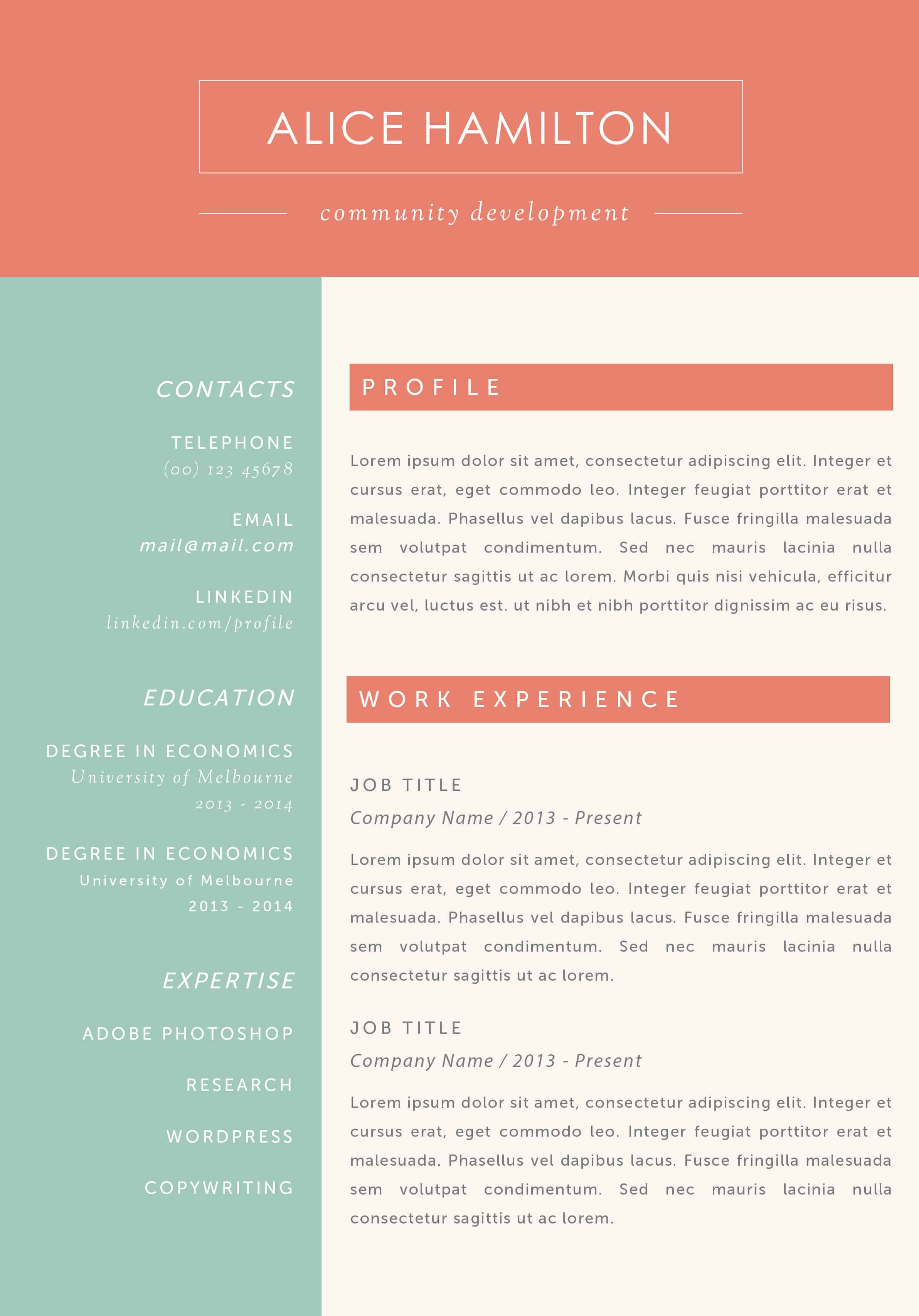 The number 5 on our list is the only template for Mac on our top 5 list that uses two accent colors instead of one. Using two colors can often be distracting, but the Alice designer employed salmon and teal very effectively to structure the design in order to make your job qualifications pop and your contact info easy to spot. Easily edited by Mac or Word users, a matching cover letter is also available that comes with a nice bonus – a reference letter. Get it here.
6. Canva Resume Templates
Want your resume to stand out from the crowd? Canva's collection of resume templates will help you do just that. They have a wide selection of professionally designed templates catered to most professions. But it doesn't stop there. You can customize it for free with their library of stock photos, icons, fonts, and backgrounds to match your personality and hopefully get you that dream job.
Resumes Made Easy
There you have it folks. Now you know how easy it is to stand out from all the other people who all want to land the same dream job as you. Any one of our top five resume templates for Mac or Word will give you the edge to succeed and are all very easy to download and install.
Take advantage of the design tools at hand to up your marketing game and impress the right companies who are looking to hire an amazing employee like yourself!