WordPress stands out as an excellent tool that businesses can use to create a website. WordPress works for businesses that seek to start an e-commerce website. While you can use WordPress for e-commerce, you may face some unexpected problems or issues. Read through this guide to learn how to set up an e-commerce site through WordPress.
Research WordPress Plugins
WordPress has a wonderful feature where you can use plugins for your website. Plugins allow you to add features to your site to make it easier to run and more accessible for your customers. You can do anything from customization options for purchases to installing a marketing app for email capturing. You have many plugins to work with.
Your business can find all kinds of e-commerce plugins to assist with your website. As you can see here, nearly 4 out-of 5 WordPress marketing sites use WooCommerce. Many businesses use WooCommerce because it provides plenty of customization for online stores. While you can use WooCommerce, spend some time looking at other e-commerce plugins.
WordPress gives you access to tons of different plugins to help your business. Here are a few examples.
Reward customers for sending you referrals.
Improve your search engine optimization (SEO).
Collect leads and emails so that you can find new customers.
If you want your business to survive on WordPress, you need to find some plugins to add to your website. Find out which ones can cover your business' needs.
Pick a Domain Name and Host
Make sure that you spend some time considering different domain names for your business. Through WordPress, you can buy a custom domain name. Your domain is your specific URL that appears for your WordPress website. This means that your website won't have to have "WordPress" in the URL, which looks more professional.
Keep in mind that a domain name will cost you money, but the price will vary depending on the one that you choose. You can easily look at potential prices online.
On top of this, you should pick out a hosting service for your website. You pay hosting services a yearly fee to avoid any downtime for your websites and to get it to load quickly. You can choose between a shared or dedicated hosting service. Shared hosts split the hosting service between different websites and a dedicated one will cost more but only serve your site.
Getting a specific domain name will help your business to appear professional and to make your URL easy to remember. Hosting will help your website to stay up and running while keeping it fast. Make sure to pay for these services if you want a high quality website.
Look at Themes
When you use WordPress, you can get themes for your website. This means that you can use pre-created layouts to make your website look nice and appealing. WordPress provides different categories alongside free themes that you can use. They also offer premium themes that cost money but usually have more features or nicer designs.
This graph is interesting because it shows the wide range of prices for WordPress themes. While over 40% of WordPress themes cost between $41-59, you can easily find themes below $10 and over $100.
While WordPress suggested themes are mostly paid ones, you could check for free WordPress themes as well. Look through the different themes and find one that you want for your business. This can include different features, layouts, and whatever else you expect from a theme. Find one that will work well with your website and content then use it.
Get Your Product Page Ready
You also need to spend some time getting your product page ready. Your customers will use your product page to do their shopping and look at your website. Make your website easy to navigate so that you can make their experience as good as possible. If it's hard to use, then people will go to different websites with easier setups.
When you create a product page, try to apply these points and make it appealing for your customers.
Give them a search bar and categories to find the product that they want.
Make your deals stand at or at the top of the page to get your customers to buy them.
Provide plenty of product images with the prices next to them.
These features will make navigation and using your product page easy. Search bars and categories let your customers find what they want. Deals at the top allow them to easily see ways that they can save money. Images and prices let them make an informed decision and see what you have to offer.
As you keep your audience in mind and make an excellent user experience, you can draw in more returning customers.
Checkouts and Payments
If you want your online store to work, you need to create a checkout and payment page. A checkout page allows a customer to look over what they want to buy and it displays the cost with tax included. The payment page lets your customers pay with whatever payment options you have available. This can include credit card, PayPal, and other online payment methods.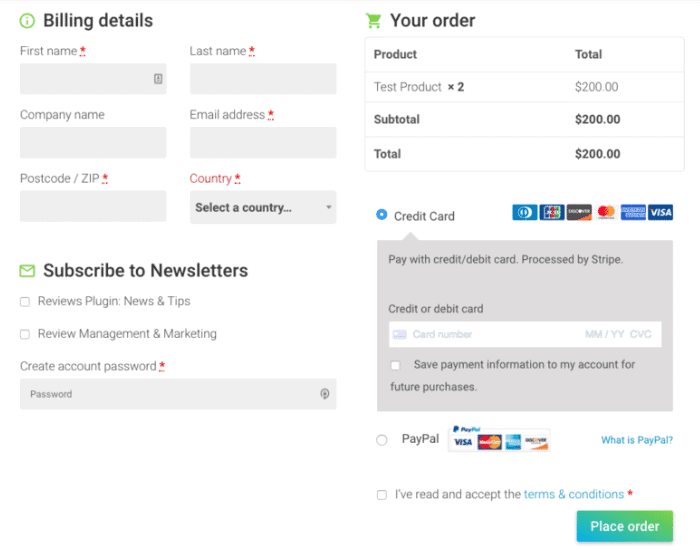 This image gives you a good example of a checkout and payment page. It shows off many features that make it easy to use and understand while providing convenience.
Accepts multiple types of credit cards and PayPal.
Displays the product costs and can even show the individual items.
Area to fill out billing details and show the required fields with red asterisks.
Make your checkout and payment page as easy to understand as possible. As you provide more availability and make it user friendly, people won't mind returning to your site for more purchases.
Final Points
Some businesses may face problems when they try to use WordPress, but if you're new to it, you can use this guide to help you. You'll be able to address the most important points to a WordPress ecommerce website so that you can get some sales for your business. Spend some time planning for these points and create a website that will draw in customers.