WordPress has taken the web design field into whole new level. The kind of quality that took 1ooo's from the pocket of business owners can be obtained with a mere price of $100.
If you need to make it custom ready, it can also be done with the help of customisation experts. You can easily hire them for $5 per hour in Fiverr. But customisation is the whole different ball game. Now we are talking about the multipurpose themes that makes the lives of business owners breeze
Here we have accumulated our top 3 picks for 2017.
Total
Total is one of the most popular and free theme from Hash Themes. Yes, it's a product from Hash. From corporate business to personal adsense optimised websites, you can use Total for any kind of stuff. Not only it has clean design it has plenty of colour options that makes it one of its kind. With a combination of 10 different home page sections Total is the theme you need to look out to in 2017. One example of site made from Total is Pics Plz. It's simple but offers so much to the website.
Kalium
My first reaction to Kalium was simply wow. The creative minds behind Kalium made sure that this theme was out of the box. The banner statement says it all – creative theme for professionals. The drag and drop options along with rich full theme options make it one of the favourite multi purpose themes for even the layman to work.
You may be wondering why the ratings are so high for this theme. Well simply because it has 10 different demo options, 30+ portfolio types and array of beautiful features.
Avada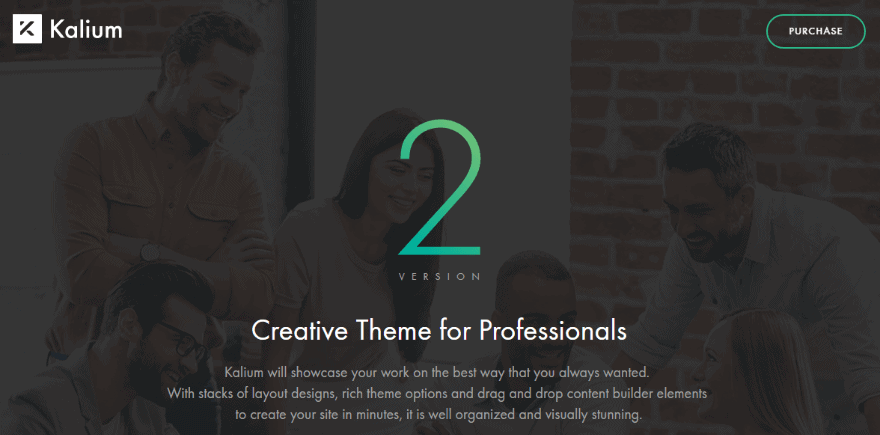 The king of all themes. Well, that's what I think. Avada is the theme that almost everyone in the WordPress field knows and have probably used once in their life. Having over 30000 sales, it's the #1 rated theme in themeforest. With great features like fusion builder and huge support eco system, this theme packs a punch when it comes to quality WordPress theme. The mega menus and theme option panels makes it one of the brilliant themes that can be used for any types of purposes. One example of site build on Avada is T3 Design
These are the three themes that offers much more than just a corporative nature. Building site from these 3 themes can give you a pleasant look for your business.